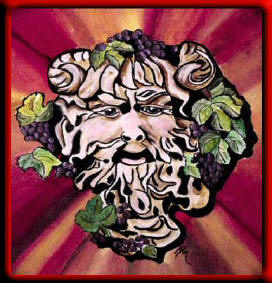 Happy St. Patrick's day. Are you wearing green? Everybody in my family is wearing green today. Ah! - you say - the Roys must have all kinds of Irish going on. We do have a lot of British Isles in us: Scotland, Wales and England, and a bit of Ireland too. But we wear green especially because March 17th is also my son's birthday. He is eight today, and he loves green and clovers (and no, he does not use them to pontificate on Christianity's Trinity as St. Patrick did).
My friend
Dorothy Papadakos
has written a wonderful musical called Bacchus, and yesterday I received an e-card from her wishing me a happy holiday, in honor of Bacchus. From the card I learned that March 17th (and 16th) is not only St. Patrick's Day, but also the ancient Roman festival of Bacchus, Roman god of wine, madness and ecstasy (he is also the god of theater and agriculture, but of course my thoughts go straight to the divinity in madness and ecstasy.)
There is a god from the British Isles called The Green Man, similar to the Roman Bacchus in that he is an ecstatic fertility god, bringing new life at the spring equinox. Are these two related to St. Patrick? Why are we wearing green? Why are the streets filled with drunks on this particular day? These questions thrill me. My father, an Episcopal priest, always said that a second hand religion was no religion, and I learned to search for answers myself. My grandmother encouraged me to ask bigger and bigger questions. Reading Joseph Campbell's
The Power of Myth
as an older teen began a journey of finding my own spirituality and constantly looking at different points of view, a quest that continues in my writing, as I find myself drawn to making otherworldly connections with my very real characters.
After Joseph Campbell I moved on to Carl Jung's
The Archetypes and the Collective Unconscious
, which brings me back to my son and his almost primal urge to identify with the symbols of this season. When I was pregnant, his "due" date was March 28th, but I knew he'd be born sooner. "Any day but March 17th, any day but March 17th" I chanted. "Why?" my family asked. "Everybody will be drunk and I won't be able to get a taxi!" was my hormonal, irrational (Bacchanalian?) response, ignoring the possibilities that Campbell and Jung had shown me.
Eventually, I will share these books with my son and he can unravel the mysteries of Bacchus, the Green Man, St. Patrick, spring equinox and Easter too, and why it is he likes clovers and the color green.