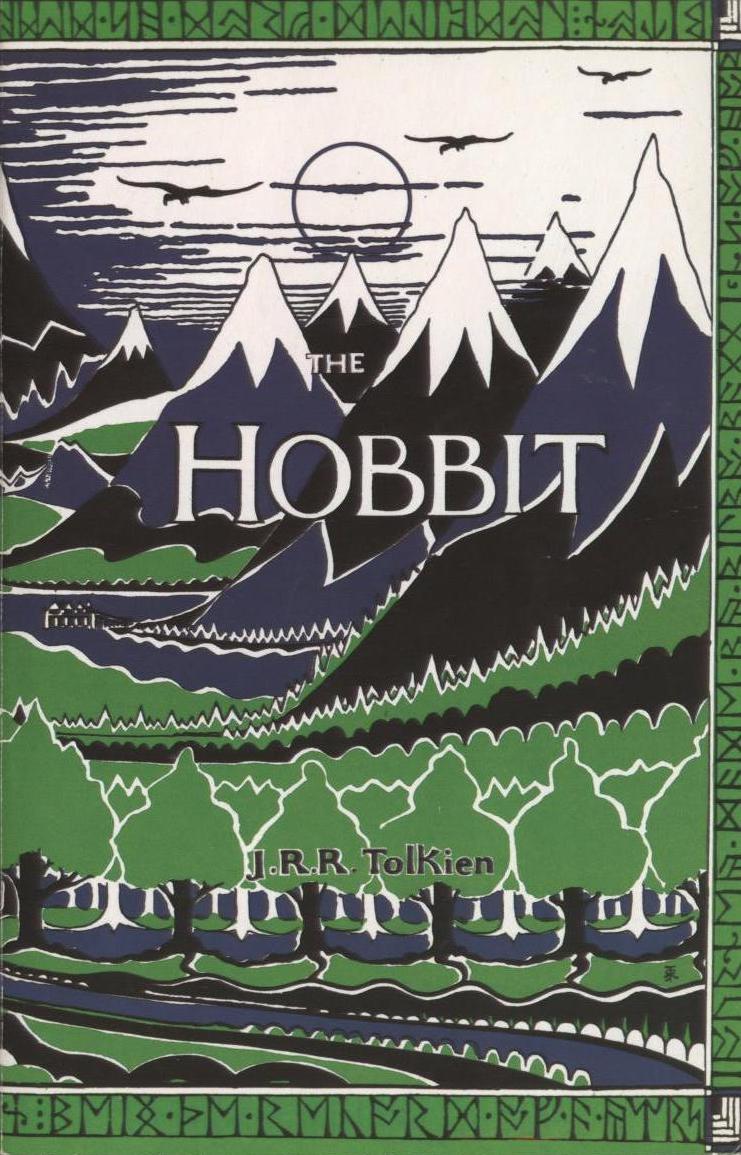 "There is more in you of good than you know, child of the kindly West. Some courage and some wisdom, blended in measure. If more of us valued food and cheer and song above hoarded gold, it would be a merrier world."
We've just read the Hobbit for the InBeTween Pages Book Club at the Bedford Hills Free Library tonight and so today I am thinking of hobbits and heroes, and well, myself. After all, isn't that one of the reasons we read - to see ourselves and what we could be reflected in the pages? To understand our humanity a little more? I can't wait to hear from the tweens - who they identified with, what they liked and what they didn't like. What do they think of elves, goblins, dwarves, Gollum and Smaug?
The Hobbit was the first epic fantasy I remember my mother reading aloud to me. What was it about this 50 year old man's mid-life crisis that had me so enthralled as a six year old, and still does to this day? I reread it several times as a child on my own and then surprised myself when I was 18 by picking up The Hobbit again when my grandfather's death coincided with the beginning of college.

It was to Bilbo Baggins and his transformation that I turned for comfort. Bilbo out-riddled Gollum, (who perhaps scared me the most with his obsession of his "precious" ring,) defeated the spider AND Smaug - all on his own, without the help of those bloody dwarves. And he was only three feet tall! He didn't WANT to do any of these things, but he was able to find the hero within himself to face his fears AND hold onto his value system. He's a spiritual guru he is, our Mr. Baggins. We're all fumbling along, best as we can, only to face contempt by "success" and "money". (Ah, dwarves - we'll show them!) And then addiction sneaks in under the guise of Gollum, and sneaks it's way in despite it's feat - the ring helps him - saves him even, yet may just be the thing that enslaves him . . . will I be alone in my fascination?
JRR Tolkein, a medieval and language scholar at Oxford University, first created Middle Earth when he made up stories for his own children and has paved the way (borrowing heavily from fairytales and epic medieval quests) for the world's rich fantasy tradition. Books are written differently today, for indeed we live in a different world. We live in an age where everything is accessible and we can be instantly gratified. In the bestsellers of today, action is sped up, so pages turn faster. Literary fiction while not exactly dying, doesn't appeal to the masses.
The Hobbit takes us on a meandering journey. (Aren't journeys, by their very nature meandering?) Even more meandering is The Lord of the Rings Trilogy, which I didn't appreciate or even finish until I was an adult, as it's core is violence and war. (Indeed, I turned to TLotR to read before the movies came out. My reading was timed perfectly with the devastation of 911. Books as therapy. What's your favorite?)

Wherever you go, there you are. We all have to have to do battle with our inner demons at some point whether we're conscious of it or not. What better way than to go on an adventure? You still take yourself with you wherever you go, and home will feel even more delicious once you realize that you want what you already have, or , as is Bilbo's case, that life is so much more than he had ever imagined.

From the second we open any book to the second we close it, we'll have gone where the author leads us to and back again.

And if we are an engaged reader, we'll find ourselves transformed.

What a gift!