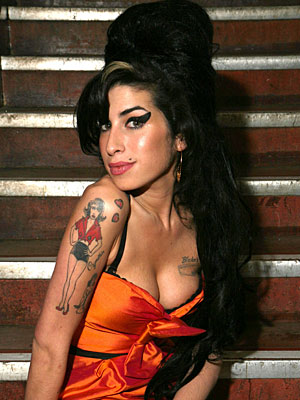 Every author, like it or not, needs to develop a platform, an audience. I am no different, and have begun a long-term relationship with social media. For the past year and a half I have been grappling with how much of myself I should/want to reveal: I dance around the issue of addiction that is at the heart of
Edges
. The death of
Amy Winehouse
has me thinking again about why my soul continued nagging at me to keep at it, to tell a part of Luke's story, of Ava's story.
I don't know anything about Amy Winehouse other than that she was prodigiously talented both at her music and at being a train wreck. She was 27, she never got help. Did she want it?
It won't be new to anybody that I've had a wild past, and have friends and family members die from their addiction - my uncle died from cirrhosis of the liver.
So, it's not going to be a far stretch to tell you that I have even more of a personal connection to alcoholism and recovery.
I was 25 years old and in the MA program for
Drama Therapy
at NYU when I realized that I wasn't going to be able to help anybody unless I took a hard look at myself. I looked good on paper, but I was spiritually bankrupt inside. I didn't want to/ didn't know how/ couldn't grow up. And I had a habit of picking friends and boyfriends who had bigger problems than I did, so I could always point to them as examples of how well I was doing. Ha!
I call myself an alcoholic because I need to remind myself of what happens when I drink, although I have been clean and sober for almost eighteen years. Recognizing my demon has enabled me to become more than I ever thought possible: a wife, a mom, a writer, a teacher, a friend.
I've always had a complicated but deeply personal relationship with God, with sobriety, and even with the concept of "help"- and I know I'm not alone in that.
In
Edges
, Ava finds herself in an
Alcoholics Anonymous
meeting. She is surprised by the turns her life takes and also by the fact that it does not immediately make her life better. I portrayed the beginnings of sobriety as realistically as I could. Recovery and the way people talk about it can be very polarizing. A. A. both helps millions of people, and of course it doesn't help just as many. The statistics for getting and staying sober are very grim, but that doesn't mean twelve-step programs don't "work". That doesn't make it less valuable to the people who are able to regain control over their lives.
Amy Winehouse died of substance addiction, but her parents are saying that it wasn't the addiction but the withdrawl that killed her.
Please. That is so irresponsible. (Even if it was withdrawl, it is still because of addiction.)
Still others are saying she had it coming - she had to pay for her outrageous behavior. FAIL. Really people?
It is hard to seek help, especially when there are people who are out there who are so much worse than we are. (Just look at Charlie Sheen, or Amy for that matter.) Especially when our own denial would seem to be saving our lives because it is too hard to look at our shameful behavior. And especially when alcoholism and addiction are still stigmatized.
Writing had been one of my ways out, of healing, of discovering and exploring who I am and what it means to be human.
In this instance, I started writing this post not sure about whether I would publish it or not. Then hours later, I ran into Leah Epstein at The Voracious Reader. She is a YA/MG writer and curator of
The Drinking Diaries
. We "know" each other from Twitter, but had never met in person. Leah bought a copy of
Edges
and then an hour later emailed me interview questions for The Drinking Diaries, all related to drinking.
If you are reading this, then I have published this post, and I am free to say I haven't had a drink or a drug since I was twenty-five years old, and that now my favorite drinks are coffee and/or seltzer with lime.