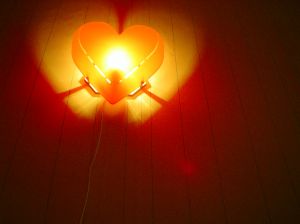 Yes we do! This concept is something that crystallizes for me the more I practice the art myself and the more I meet other writers through the workshops I lead.
Although I am back in New York, part of me is still in Mobile Alabama, and maybe it always will be. Those Mobilians touched my heart!
Those writers from all different walks of life who have a story to tell and have the right to write.
I spoke my truth about writing and life to the Mobile Writer's Guild last Thursday night and then on Saturday I led two workshops: the first being sponsored by the library and the Metro Mobile Reading Council. It was a 50th anniversary celebration of my grandmother's opus,
A Wrinkle in Time
where I led a workshop for kids, tweens and teens and asked to think about not only Wrinkle, but every book they read and everything they write themselves in an introspective way.
Betsy Gillespie, president of the Reading Council writes: "Thank you for such a wonderful Young Authors' program today in Mobile! In just a few minutes you took the students from apprehensive to engaged! You captured the hearts of a very diverse group of young adults and had them all writing and participating! This was one of our best programs ever!!! Many thanks to you and to the Mobile Writers' Guild. All of us in the Metro Mobile Reading Council were delighted with the workshop!"
We did some group and individual writing and dramatic exercises, culminating in a poem or short piece about fighting darkness. Morgan Grable and Natasha Novikov, both 8th graders, agreed to let me publish the poems they wrote, here on this blog!
Uncover The Darkness
My encouraging words light the darkness, it strikes every corner every crevasse.
My fearless words rewrite the words of extraordinary power that were never spoken never written.
As I speak with these words the darkness retreats.
As the light shines through the darkness it's time for me to find who I am.
It's time to uncover what's hidden behind all the anger.
It's time for our lights to shine and over power the darkness.
This young author is pretty incredible, don't you think? But wait - you haven't read Natasha's!
Fear
When I'm doing something scary, fear comes to me,
Fear goes straight to my head and tells me, "You can't do it,"
Although we think fear is bigger than ourselves, it really isn't.
Some people run away from fear, while others run toward it.
Why do the others run toward fear?
Because the only thing standing in the way is fear itself.
Amazing emerging authors, huh?
In the afternoon I led a three hour professional workshop called
Mining Your Life for Your Fiction
for adults (and one teen) where I asked participants to go deep into themselves and their subconscious in order to bring their own truths to light. We stayed late so that everybody had the chance to share and receive feedback. I was blown away by participants' willingness to uncover themselves, for writing really is about stripping down and revealing ourselves, isn't it? We fight our own darkness.
I made some new friends and solidified a few "internet" friendships into "real life" friendships.
I had to write this morning to ground myself back into my own life, here in New York. Now I can hit the ground running, but first, for this writer, it is best to hit the ground writing!