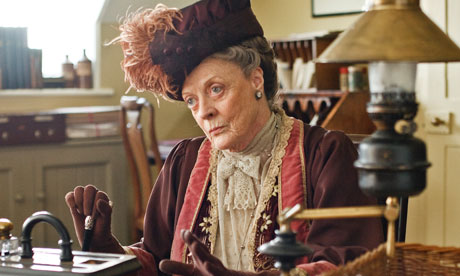 I just watched 17 episodes of
Downton Abbey
in three days. That's right - you heard me. Most of them were on Tuesday and Wednesday when I was in bed with the flu. Now I am slowly starting to feel better, but I have been staring at my manuscript for the past hour - yeah, just staring - I can't seem to construct a sentence -
I've never done this before - given myself the gift of a marathon of this magnitude. Who has the time?
But that was the gift of the flu.
Facebook can make one feel left behind on certain things, and I had missed the whole Downton Abbey craze. On Sunday, people started posting about the beginning of Season 3. I asked Facebook: do I really have to watch from the beginning?
The resounding answer was yes. My husband was watching a football game, so I took my computer under the covers and logged into Netflix and watched the first episode, and then the second. On Monday night I watched the next two episodes, but then I couldn't fall asleep, thinking about Anna and Bates, Mary and Matthew. Do I like Mary anyway, are we supposed to like her? And that Thomas!
Tuesday morning I ran errands, but by 10:30am it was clear that I should not be driving, or writing, so I got back into bed and finished Season 1. But I had to have more! So I ended up paying for it, streaming on Amazon Prime. Two more. Sleep. Then yesterday I watched the next seven glorious episodes in Season 2, topping it off by watching Sunday night's movie-length episode on PBS.com.
So now I know. And I love it. It is a well-crafted story with rich, interesting characters whose motivations you understand, can even relate to, even though they live in a reality far away from where you are (in bed with the flu?)
Never heard of Downton Abbey? Here is why it is so
popular
.
And who doesn't love Maggie Smith?